Casey Kelp is the female lead character on "The Snorks," and is very likeable. She's brave, intelligent, and cares for others. She is best known to have had a crush on her best guy friend, Allstar Seaworthy, particularly in Season 1, Season 2, and portions of Season 3.
Appearance
Casey is a pink-skinned snork with her red hair in pigtails. She is often seen wearing a midriff revealing green three-quarter length sleeved shirt and green pants.
Biography
Casey Kelp is the daughter of
Mrs. Kelp
, a housewife, and
George Kelp
, owner of
Kelp's Grocery Store
(
Casey and the Doubleheader
,
Robin Snork
). She's also the niece of
Marina
, Snorkland's famous actress. Not too much is known about her past, and it is possible she's not originally from
Snorkland
, as she was not seen in flashbacks in "
The Day They Fixed Junior Wetworth
."
Personality
Casey is sweet, caring, and helpful to sea creatures in their time of need. She can also be a bit "boy crazy," as evident with her crushes on Allstar and Stevie. Despite being positive about life, she can be very self-conscious about her looks (Learn to Love Your Snork). Although she is a relatively nice snork, she can be very mean whenever promises are broken, she doesn't get her way, or she's standing up for her friends and herself (Allstar's Freshwater Adventure, Snork Ahoy, The Boo Lagoon). In Seasons 3 and 4, her arch-nemesis is Lil Seaweed. While the two fight each other in some episodes, they have been known to help each other out (First Snork In Space).
Relationships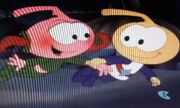 Daffney
Casey is best friends with Daffney Gillfin, and they have been since they were younger. They shop together, go on adventures together, and even do some of the same leisure activities together. In fact, they were once cheerleaders, but quit because the captain of the cheer squad hated Casey and wanted her to leave (Water Friends For?).
Junior
Casey and Junior Wetworth are frenemies. While Junior has joined with Casey and her friends on their adventures under the sea, the two would often argue about what's right and wrong. In Seasons 1 and 2, he had a huge crush on her, and was very jealous of Allstar because of it. There have even been times when Junior did really mean things to destroy Casey's reputation, almost causing her to lose her friends at one point. An example of this is when Junior bribed everyone with food so they could vote for him in the election instead of Casey. Turned out that Junior won that election, but was soon dethroned of the title (Junior's Empire). Near the end of the show's run, Junior changed his ways and bought Casey tickets to the amusement park for her birthday. As a result, she kissed him on the cheek (The Day They Fixed Junior Wetworth).
Allstar
See Allstar and Casey's Relationship for further information.
Trivia
She is known to be a good artist (Which Snork Snitched, A Snorking We Will Go).
She likes to eat cotton candy on Ferris Wheels (Hooked On a Feeling).
Like her closest male friend, Allstar, she plays sports (Which Snork Snitched, Snorkdance, The Shape Of Snorks To Come)
She is able to thoroughly communicate with sea creatures and help them out in desperate times (The Snorkness Monster, Whales Tales, A Starfish Is Born)
Casey also likes to wear jewelry and fashionable dresses (The Blue Coral Necklace, Casey in Sandland, Taming Of The Snork, Little Lord Occy)
She can be self-conscious of her looks, especially when it comes to her snork (Learn to Love Your Snork)
She has had background experience as a cheerleader (Water Friends For?, Snorkerella)
Casey tends to show strong affection and care for her crushes (Snorkdance, Allstar's Double Trouble, Learn to Love Your Snork, Snorkerella)
She thinks Allstar's cluminess is cute, and it makes her giggle (Learn to Love Your Snork)
She has a huge interest in astronomy (A Starfish Is Born, First Snork In Space)
She has also had some experience in theatre via her Auntie Marina (Allstar's Freshwater Adventure, Summer and Snork)
Casey can uniquely disguise her voice to sound like a man's (Chills, Drills and Spills)
Finally, Casey claims to be the "smartest girl in school" (Snorkerella).
Casey is similar to Belle from the Disney movie, Beauty and the Beast '''''- b'oth are beautiful heroines with strong and smart personalities, have ponytails for hairstyles, dream of adventure once in a while, and stand up to arrogant bullies who stalk them (Gaston for Belle, Junior for Casey)
Ad blocker interference detected!
Wikia is a free-to-use site that makes money from advertising. We have a modified experience for viewers using ad blockers

Wikia is not accessible if you've made further modifications. Remove the custom ad blocker rule(s) and the page will load as expected.