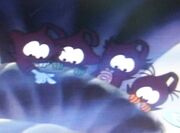 The Council of Elders are
Snorkland's
main government officials.
Governor Wetworth
usually seeks to them when he wants to place one of the other snorks on punishment for various reasons (
Journey To the Source
,
Vandal Scandal
). However, if the Wetworths get in trouble themselves, they have to deal with the Council of Elders. Their faces are never seen in the
Season 1
episodes they have appeared in (as they are mostly "in the shadows"), but it is presumed that they were the four government officials in Governor Wetworth's office in the episode
It's Always Darkest Before the Snork
. They are voiced by
Peter Cullen
and
Michael Bell
. 
Ad blocker interference detected!
Wikia is a free-to-use site that makes money from advertising. We have a modified experience for viewers using ad blockers

Wikia is not accessible if you've made further modifications. Remove the custom ad blocker rule(s) and the page will load as expected.