Edie McClurg

Born:

July 23, 1951 (age 62)

Location:

Kansas City, Missouri

Roles:

Actress and voice actress

Characters Played:

Mrs. Seaworthy and Mrs. Seabottom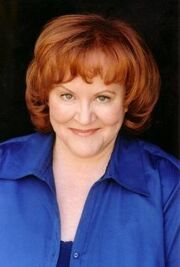 Edie McClurg (born July 23, 1951) is an American actress and voice actress. On the
Snorks
, she voiced
Mrs. Seaworthy
and
Ms. Seabottom
. 
Characters Played
Mrs. Seaworthy
Ms. Seabottom
Other Voice Roles
Carlotta - The Little Mermaid
Winnie Pig - Tiny Toon Adventures: How I Spent My Summer Vacation and Tiny Toons Spring Break
Mrs. Normanmeyer - The Addams Family (1992)
Ora Anderson - Life With Louie
Dr. Flora - A Bug's Life
Violet Stimpleton - Rocket Power
Tooth Fairy - American Dragon: Jake Long
Bea's Mom (Mrs. Goldfishberg) - Fish Hooks
Minny - Cars 2
Mary - Wreck-It Ralph
Gerda - Frozen
Acting Roles
Venus Kallikak - The Kallikaks
Willamae Jones - Harper Valley P.T.A.
Lucille Tarlek - WKRP in Cincinnati
Audrey Blume - The Jeffersons
Bonnie Brindle - Small Wonder
Mrs. Patty Poole - Valerie
Principal Marilyn Ridge - Drexell's Class
Hilda Morris - Melrose Place
Margaret Duffy - Caroline in the City
Mrs. Beeker - 7th Heaven
Personal Life
Edie McClurg was born in Kansas City, Missouri. She is best known for her perky North Central/Upper Midwest dialect. She attended the University of Missouri while she also earned a Master's degree from Syracuse University. Her first onscreen debut took place in 1976, when she played Helen Shyres, one of Carrie's classmates, in the classic horror film Carrie. She was once a member of the Pitcshel Players, a San Francisco based inmprov group. She then moved to LA where she joined the Groundlings along with Paul Reubens. She even played Hermit Hattie in his 1981 play, The Pee Wee Herman Show. As of 2014, she has appeared in nearly 90 movies and 55 TV episodes. 
Ad blocker interference detected!
Wikia is a free-to-use site that makes money from advertising. We have a modified experience for viewers using ad blockers

Wikia is not accessible if you've made further modifications. Remove the custom ad blocker rule(s) and the page will load as expected.