Frank Nelson

Born:

May 6, 1911

Location:

Colorado Springs, Colorado

Died:

September 12, 1986 (age 75)

Location:

Hollywood, California

Roles:

Actor and voice actor

Characters Played:

Governor Wetworth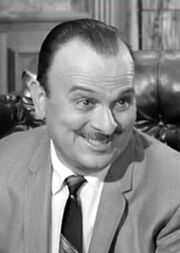 Frank Nelson (May 6, 1911 - September 12, 1986) was an American comedic actor and voice actor. On the
Snorks
, he provided the voice of
Governor Wetworth
for the first two seasons until his death, when
Barry Gordon
assumed the role. 
Characters Played
Other Voice Roles
Clerk, Rockbind, and Rocky Stone - The Flintstones
Narrator - Mr. Magoo
Uncle Dudley - The All New Popeye Hour
Wizzar - Monchhichis
Ralph - The Jetsons (1985)
Dr. Pavlov - Foofur
Notable Acting Roles
Mr. Fischer - Our Miss Brooks
Ralph Ramsey - I Love Lucy
Various - The Jack Benny Show
Co-Pilot - Sanford and Son
Spiffy - The Oddball Couple
Richard J. Remington - Malibu Bikini Shop
Personal Life and Legacy
Frank Nelson was born in Colorado Springs, Colorado. He began his career in radio before moving to television. His most notable roles took place during the 40s and 50s, when he numerous roles on Jack Benny's radio show, and eventually his own television show. Portraying a sales clerk or a customer service worker, his most notable catchphrase was "EEE-yeeeeeesssss?" This has allowed other aspects of pop culture to reference or parody his famous catchphrase and television roles. The most known out of that batch would have to be the "Yes Guy" from The Simpsons. Frank Nelson was married to Mary Lansing from 1933 to 1970, and then Veola Vonn from 1970 until his death in 1986. He died in Hollywood on September 12, 1986 after battling cancer for several years. 
Ad blocker interference detected!
Wikia is a free-to-use site that makes money from advertising. We have a modified experience for viewers using ad blockers

Wikia is not accessible if you've made further modifications. Remove the custom ad blocker rule(s) and the page will load as expected.