Joan Gardner

Born:

November 16, 1926

Location:

Chicago, Illinois

Died:

December 10, 1992 (age 66)

Location:

Encino, California

Roles:

Voice specialist

Characters Played:

Mrs. Wetworth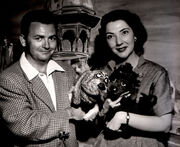 Joan Gardner (November 16, 1926 - December 10, 1992) was an American voice specialist. On the Snorks, she was well known for voicing Mrs. Wetworth. 
Characters Played
Other Voice Roles
Tiny Tim/Ghost of Christmas Past - Mr. Magoo's Christmas Carol
Spunky - The Adventures of Spunky and Tadpool
Additional Voices - The Jetsons
Additional Voices - The Famous Adventures of Mr. Magoo
Tanta Kringle - Santa Claus Is Coming To Town (1970 special)
Gara - Valley of the Dinosaurs
Elizabeth/Calliope - The First Easter Rabbit
Additional Voices - The All New Scooby and Scrappy-Doo Show 
Zazu, the Fairy Dogmother - Pound Puppies
Personal Life and Death
Joan Gardner was born in Chicago, Illinois. She was also a screenwriter, songwriter, actress, author, and composer. She married producer Edward Janis, and would occasionally credit herself under Joan Janis. It is unknown to this day how she had died. 
Ad blocker interference detected!
Wikia is a free-to-use site that makes money from advertising. We have a modified experience for viewers using ad blockers

Wikia is not accessible if you've made further modifications. Remove the custom ad blocker rule(s) and the page will load as expected.