Lucky is a freshwater snork who comes from the river world. He only makes an appearance in "Allstar's Freshwater Adventure." He gets sucked into Snorkland as a result of Hailley's Current, where he meets Allstar and Occy. He loses oxygen along the way, but gets it back thanks to Dr. Gallio. After he returns to the river world, Allstar gets sucked in and he shows him around. There is sludge, but Allstar teaches Lucky and his family how to send UFO's (unidentified falling objects) back up into dry space. He is voiced by Frank Welker.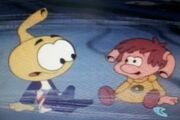 Ad blocker interference detected!
Wikia is a free-to-use site that makes money from advertising. We have a modified experience for viewers using ad blockers

Wikia is not accessible if you've made further modifications. Remove the custom ad blocker rule(s) and the page will load as expected.