Molly is a character in "The Snorks" that only makes an appearance in "
First Snork In Space
." She comes from the planet
Seaturn
, and traveled to
Snorkland
to seek help from
Casey
. Together, they had to retrieve the Speckled Snorkelitis plant, along with the rest of the formula, in order to cure her sick father. Molly is voiced by
B.J. Ward
.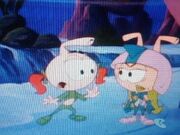 She is also the only snork besides
Jojo
who has 2 snorks.
Ad blocker interference detected!
Wikia is a free-to-use site that makes money from advertising. We have a modified experience for viewers using ad blockers

Wikia is not accessible if you've made further modifications. Remove the custom ad blocker rule(s) and the page will load as expected.