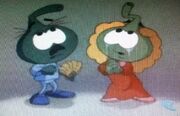 Mr. and Mrs. Shellby are Tooter's parents. They have only appeared in a couple of
Season 1
and
Season 2
episodes such as "
Vandal Scandal
" and "
The Whole Toot and Nothing But...
" But whenever they do make an appearance, they often plead and cry becuase their son is in some sort of danger or is in desperate need of help. Although they actually talk, they do make tooting noises in between sentences or words. Mrs. Shellby is presumed to be a housewife, and Mr. Shellby works on the eel-evated train. In fact, when he took
Tooter
to work with him that one time, he lost control of the engine, and Tooter had to toot in order to stop the train. In fact, that marks the first time Tooter tooted (
The Whole Toot and Nothing But...
).
Ad blocker interference detected!
Wikia is a free-to-use site that makes money from advertising. We have a modified experience for viewers using ad blockers

Wikia is not accessible if you've made further modifications. Remove the custom ad blocker rule(s) and the page will load as expected.