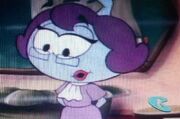 Mrs. Fisher is a teacher at
Snorkland High
who only appears in
Snorkerella
. She requires all her students to pass her test if they want to attend the Homecoming Game. However, she finds a cheat sheet under
Casey's
desk, and assumes she is cheating. She then lets Casey take a make-up exam and has her clean her classroom before the big game. On the other hand,
Lil Seaweed
trashes it, making Casey work even longer. Mrs. Fisher soon finds she's the real culoprit, and in the end busts her.
Ad blocker interference detected!
Wikia is a free-to-use site that makes money from advertising. We have a modified experience for viewers using ad blockers

Wikia is not accessible if you've made further modifications. Remove the custom ad blocker rule(s) and the page will load as expected.