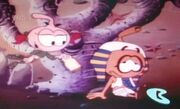 Prince Eli is the main villain in the episode
All That Glitters Is Not Goldfish
. He at first appears to be nice and desperate for help. He comes from the land of
Seagypt
, and at first he claims to have a sister named
Princess Alexandria
 who is selfish and wanting to take over the land. The snorks help him stop her, but it turns out he's the bad guy. So he locks them in the dungeon and takes over Seagypt. Thankfully, Princess Alexandria helps the snorks escape and stop her brother. He is probably the worst villain in the series. 
Ad blocker interference detected!
Wikia is a free-to-use site that makes money from advertising. We have a modified experience for viewers using ad blockers

Wikia is not accessible if you've made further modifications. Remove the custom ad blocker rule(s) and the page will load as expected.