Rene Auberjonois

Born:

June 1, 1940 (age 74)

Location:

New York City, New York

Roles:

Actor and voice actor

Characters Played:

Dr. Strangesnork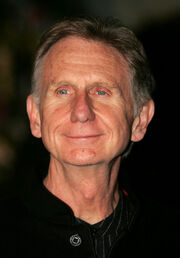 Rene Auberjonois (born June 1, 1940) is an American, film, TV, and theater actor. On the
Snorks
, he voiced
Dr. Strangesnork
. 
Characters Played
Other Voice Roles
Chef Louie - The Little Mermaid
McLeish - Pound Puppies (2010 series)
Pep Le Pew - The Looney Tunes Show
Mechanist - Avatar: The Last Airbender
Master Fung/Narrator - Xiaolin Showdown
Renard Dumont - The Legend of Tarzan
Phillipe Renaldi - The Princess Diaries (uncredited)
Butler - Joseph: King Of Dreams
Jonathan - Rugrats
Kangent - The Pirates of Dark Water
Alphonse LaFleur - Chill Out, Scooby Doo!
Dithering - An American Tail: The Treasure of Manhattan Island
Acting Roles
Clayton Endicott III - Benson
Colonel West - Star Trek VI: The Undiscovered Country
Dr. Burton - Batman Forever
Odo - Star Trek: Deep Space Nine
Judge Jackson Keeler - Judging Amy
Father Patrick Murphy - Saving Grace
Paul Lewiston - Boston Legal
Hugo Miller - Warehouse 13
Winslow Hannum - 1600 Penn
Personal Life and Career
Rene Auberjonois was born in New York City to Swiss-born Fernand Auberjonois and Princess Laure Louise Napoleone Eugenie Caroline Murat. After college, he worked with several different theater companies from Washington, DC to Los Angeles. He was on Braodway during the 60s and 70s before he appeared on the Hollywood shows during the 1980s, starting with a few minor roles in M*A*S*H. He's continued to appear on TV, performing voice roles, and been on radio ever since. He's been married to Judith Helen Mahalyi since 1964, and togehter they have two children - Remy and Tessa. 
Ad blocker interference detected!
Wikia is a free-to-use site that makes money from advertising. We have a modified experience for viewers using ad blockers

Wikia is not accessible if you've made further modifications. Remove the custom ad blocker rule(s) and the page will load as expected.