Robert Ridgely

Born:

December 24, 1931

Location:

New Jersey

Died:

February 8, 1997 (age 65)

Location:

Toluca Lake, Los Angeles, California

Roles:

Actor and voice actor

Characters Played:

George Kelp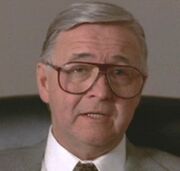 Robert "Bob" Ridgely (December 24, 1931 - February 8, 1997) was an American actor and voice actor. On the
Snorks
, he was best known for voicing
George Kelp
as well as a few additional voices. 
Characters Played
Other Voice Roles
Commander - Dexter's Laboratory
Thundarr - Thundarr the Barbarian
Skrull Emperor - Fantastic Four (1994)
Groundchuck - Teenage Mutant Ninja Turtles (1987 series)
Dr. Harley Street - SWAT Kats
Narrator - Spacecats
Al Vermin - Bonkers
Mike Summit - Sky Commanders
Mighty Paw - Paw Paws
General Ross - The Incredible Hulk (1982)
Tarzan - Tarzan, Lord of the Jungle
Acting Roles
Colonel James - Boogie Nights
Hollywood Shocase Announcer - That Thing You Do!
Carter Brooks - Coach
Walter Kenton - Philadelphia
Cliff Hamilton - Domestic Life
Jeff Farlow - Mary Hartman, Mary Hartman
Liscomb and Marley - Bonanza
Announcer - The Woody Woodbury Show
Lt. Frank Kimbro - The Gallant Men
Personal Life and Death
Robert "Bob" Ridgely was born in New Jersey. He began his acting career in the 60s by appearing in shows such as Maverick and Surfside 6. Aside from several acting and voice acting roles throughout the years, he had been in numerous commercials such as one for McDonald's, and he had even staged a Broadway production number. Ridgely died from cancer in his home on Toluca Lake, California on February 8, 1997. 
Ad blocker interference detected!
Wikia is a free-to-use site that makes money from advertising. We have a modified experience for viewers using ad blockers

Wikia is not accessible if you've made further modifications. Remove the custom ad blocker rule(s) and the page will load as expected.