Roger DeWitt

Born:

October 19, 1963 (age 50)

Location:

Santa Monica, California

Roles:

Actor, voice actor, singer

Characters Played:

Jojo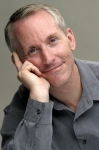 Roger DeWitt (born October 19, 1963) is an American actor, voice actor, and singer. On the
Snorks
, he's best known for voicing
Jojo
. 
Character Played
Other Voice Roles
Peter - Heidi's Song
Sam Spacely - The Jetsons (1985)
Additional Voices - Shout
Acting Roles
Various Braodway roles, including characters on The Phantom of The Opera
Judge John Marconi and Overton - Law & Order
Personal Life
Roger DeWitt was born in Santa Monica, California. His parents were Jean Vander Pyl and Roger Wells DeWitt. He's also a graduate of Loyola Marymount University in Los Angeles. He moved to New York City in 1990, where he landed the roles of Mounsier Reyer and Mounsier Andre for the National Company's tour of The Phantom of The Opera. After being on tour for four and a half years (performing the show at least 1600 times), he toured with Jekyll & Hyde. He even won a Macy Award (Best Actor) for his performance as Tevye in Fiddler On the Roof. Roger worked as a guidance counselor at San Clemente High School, where he graduated in 1980, and he currently works as a life coach in New York City. He lives with his Norwitch Terrier named Buddy, as well as his husband Brad. 
Ad blocker interference detected!
Wikia is a free-to-use site that makes money from advertising. We have a modified experience for viewers using ad blockers

Wikia is not accessible if you've made further modifications. Remove the custom ad blocker rule(s) and the page will load as expected.