Samantha only appears in "Allstar's Double Trouble." She is the daughter of Rocky Waters, Allstar's dad's friend from college. She visits Snorkland when Allstar falls for her, causing him to schedule a date with her and Casey on the same night. She appears to be flirtatious in general, but that may be because she wants another snork besides Bubba, her boyfriend who gets mad at boys for looking at her. She is voiced by B.J. Ward.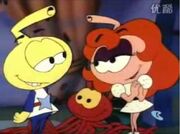 Ad blocker interference detected!
Wikia is a free-to-use site that makes money from advertising. We have a modified experience for viewers using ad blockers

Wikia is not accessible if you've made further modifications. Remove the custom ad blocker rule(s) and the page will load as expected.