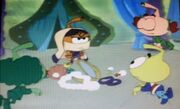 Sharif is the princess of the Oasis who only appears in
Taming Of The Snork
. She is the daughter of
Sultan Shoresheet
, and she is very bossy and demanding. It isn't until her and
Junior
fight and she is almost forced to marry a
Heffalump
does she realize the error of her ways. She takes off her vail, and admits to loving Junior. They seal it with a kiss.
Ad blocker interference detected!
Wikia is a free-to-use site that makes money from advertising. We have a modified experience for viewers using ad blockers

Wikia is not accessible if you've made further modifications. Remove the custom ad blocker rule(s) and the page will load as expected.