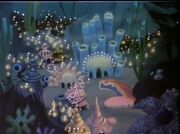 Snorkland is a snork town located somewhere deep in the ocean. It is where many of the snorks live, and is where most of the events in the series take place. It is largely populated, and a lot of action takes place. The name of Snorkland has been changed several times during the last two seasons, such as "Snorktown" and "Snorkville."
Snorkland High
, the Kelpasium, and numerous other places are located there.  
Ad blocker interference detected!
Wikia is a free-to-use site that makes money from advertising. We have a modified experience for viewers using ad blockers

Wikia is not accessible if you've made further modifications. Remove the custom ad blocker rule(s) and the page will load as expected.