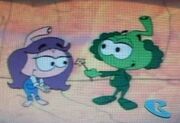 Tadah is a pink colored tooting snork from the southern snork town of Snork Fort. She only makes an appearance in
Tooter Loves Tadah
.
Tooter
develops a crush on her, although she is being controlled by her guardian/boyfriend
Toobah
. Toobah notices this, and he holds a contest, and whoever wins will take Tadah to the school dance. Tooter tries winning, but Tadah is not easily impressed because she feels he's no different than Toobah. Near the end of the episode, Toobah changes his mind and allows Tadah to go to the dance with Tooter. 
Ad blocker interference detected!
Wikia is a free-to-use site that makes money from advertising. We have a modified experience for viewers using ad blockers

Wikia is not accessible if you've made further modifications. Remove the custom ad blocker rule(s) and the page will load as expected.